About Eva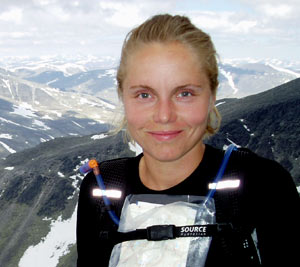 I am 35 years old, come from Czech republic, but live in Norway now.
I have been training and competing in orienteering since I was 10. I am member of Czech national team and I have participated in World Orienteering Championship 11 times. Between 2002 and 2006 I also competed in adventure racing.
Moved to Sweden and Norway
In 1999 I moved to Borlänge, Sweden. The main reason for that was to improve my orienteering skills in Scandinavian terrain. I stayed 13 years. At the end of 2012 I changed countries again, but this time the move was not too dramatic. I currently live in Norwegian orienteering Mecca, Halden, which is located only a few kilometres from Swedish border.
Work
Since the end of 2012 I have been working as a head coach in Norwegian club Halden SK.
In 2012 I worked for European Orienteering Championships 2012 (as a course setter, event office responsible, bulletin writer...) and also as a coach at Dala Sports Center.
In 2011 I was professional athlete.
In 2007-2010 I worked as an orienteering coach in the club IFK Mora OK (50% of full time).
In 2008 I was selected by Swedish orienteering federation for elite-coaching study program which I was pursuing in 2009-2010.
Languages
Swedish - speak and write most often
Norwegian - listen to most often
Czech - mother tongue
English- fluent
German - understand partly