La Palma - obsession with hills
Posted 2012-12-30
Mountains almost make it possible to forget about orienteering. Exploring La Palma, one of the less known Canary islands, during the Christmas week, filled my mind with joy. I previously had similar type of vacation on Tenerife and also Gran Canaria but I found La Palma more likable. The nature is wilder and the number of tourists smaller. The island has an extensive network of marked hiking trails. Prior to the arrival I bought two books with descriptions of the trails and one map.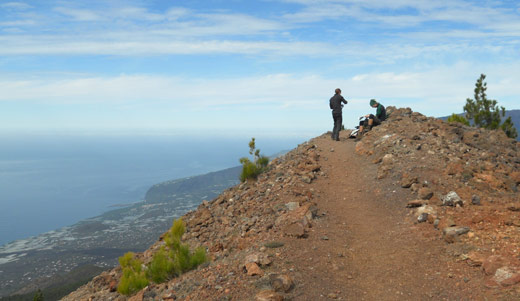 The cumulative elevation gain throughout the week was about 11000m (7000m running/hiking & 4000m on bike). Going uphill has become a bit of an obsession. The highest point of the island, Roque de los Muchachos, is 2426m above sea level. The island is sometimes called world's steepest island… an attractive destination for me. For some of the sessions Patrik drove me to a start of a trail in a low altitude and parked the car much higher up so that I did not have to do a one way& return trip and run downhill a lot, but on the last day I eventually killed my legs by running downhill from 1800m to 400m in about 45minutes, being in a hurry for the flight back to Sweden.
The most exciting trip was running/hiking on one of the trails in the national park Caldera de Taburiente. I recorded a few headcam videos:
video 1, video 2 & video 3.
I wish my bike handling skills were more advanced. Then I could enjoy the island even more, there are some superb downhill MTB-trails. This time I did most of the biking on a road. I rented the bike from www.icarobike.com
Photos from the whole week
Detailed description of the running/hiking/biking sessions I did in my training log
More about La Palma for runners from Ian Corless