EOC 2014 - Everything bad is good for something?
Posted 2014-04-18
Organizing EOC is a huge task. 7 elite races in 7 days and spectators races in addition.

I was one of the main organizers of EOC in Sweden in 2012. Despite a lot of energy and time invested and many experienced people involved we did not manage to avoid mistakes. The Portuguese organizers clearly did not have the same human and economical resources as we had two years ago.

Being an athlete this time, I was not only trying to get into shape and prepare myself for the terrain but also for the possible organizational failures.
It still turned out difficult not to let the negative thoughts infect my mind, seeing my dear orienteering being ill-treated so much during the EOC-week.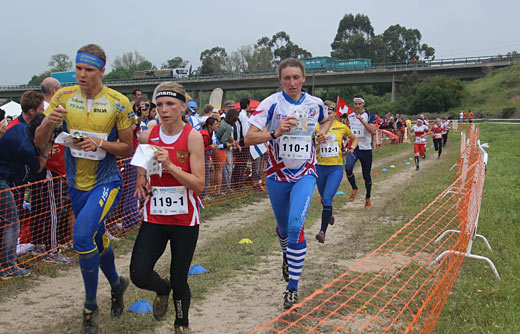 EOC2014 Relay (Photo: Orievents)
I know that long lists of organizational mistakes have been compiled by some coaches, to be sent to IOF or elsewhere soon, but I believe we need some structural changes to make sure the development of orienteering and our elite events starts moving forward.

Allocate more IOF resources to ensure event quality
Much more IOF resources should be allocated to help organizers of elite events. Find and employ a person who will be responsible for quality of maps, courses and choice of terrain, the most important parts of an orienteering event. Some kind of technical director with a deep knowledge and experience from elite orienteering, working together with organizers of not only WOC, but also of World Cup races, to make sure we get fair competitions of high quality.
IOF has had a Sports Director employed for many years (with much broader responsibility). He did not find it important to come to EOC 2012, and not to EOC 2014 either.
Improving the quality of our elite events needs to have a lot higher priority than "the Olympic dream". The money and resources used to get orienteering into the Olympics would be better spent on improving event quality - and that is also the only way to get into the Olympics.

System with IOF advisers
The system with having an IOF event adviser is good, but it does not work as intended today. A number of high level events have been saved by an excellent IOF adviser pinpointing problems and ensuring good working routines - doing a lot more than the minimum requirement by the book. Other events only receive a minimum of help from the IOF adviser. An inexperienced organizer needs luck to avoid mistakes and unfortunate situations without an IOF adviser with proper knowledge of the competition rules, a good understanding of elite orienteering and organizational experience.
Do we need to improve the system of recruiting, educating, appointing and managing IOF advisers? Would it help to pay them some salary, not just covering their costs? 

Selection of World Cup/EOC/WOC organizers and efficient use of money
There are few nations interested in organizing high level events at the moment. The task is difficult and risk of economical loss big. The IOF sanction fee for one World Cup race is 9000 euro, for WOC it is 60000 euro. The ability of an organizer to pay these fees is what decides where and when our elite events are held - and not the experience and quality of the organizers and the race concept.
That is why I think federations should start asking questions how the money collected by IOF via sanction fees is used. How much did it cost to organize and participate in the World Games in Columbia last year? And the participation of a few IOF representatives in the Sport Accord Convention in Turkey last week? At the same time when the Portuguese organizers were on their knees and when many team members and spectators had to step in to save the EOC races.

Exchange of know-how and IOF responsibilities
I think much more can be done in spreading knowledge of how an elite event should be organized. There are high level event seminars organized by IOF every now and then (which is good) but I do not understand why presentations from these seminars are not published at IOF's website. IOF has compiled some guidelines, but there is much more information to be spread and exchanged.
We have many highly-skilled people within orienteering. Seek them out, bring them together, gather the knowledge.
In other sports, like cross-country skiing or biathlon, many of the organizing services are provided and overlooked by the international federations. IT-heavy services like timing, live broadcasting and other TV-coverage related services are much more standardized. In orienteering organizers are left to themselves to create own systems. It is no wonder we see so many failures when new people have to learn and invent these things again and again.

Team leaders, get united
I appeal to team leaders and coaches. You have the best knowledge of elite orienteering. You have seen many events being organized in various ways. The EOC in Portugal hit you hard and you probably need more time to recover from the week than your athletes. But when you gain your energy again, invest it into thinking about possible solutions, discuss with your national federations, your athletes and also with your colleagues from other nations.

I will not stop going to Portugal for orienteering. I know there are some very enthusiastic and skilled event organizers. The experience from EOC 2014 was frustrating but it will not make me stop to love this sport and to try contribute to its development.